B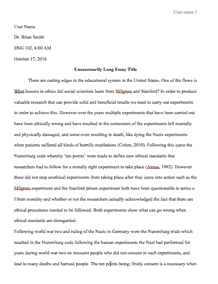 University/College: 
University of Richmond
Type of paper: 
Case study
This essay has been submitted by a student. This is not an example of the work written by our professional essay writers.
Nika Corporation is a small company that owns several apartment complexes here in the United States. I undertook an internship program with the company in the capacity of a junior system administrator for three months. My stay at Nika was characterized by a wide range of experience, and I came out better than I was when I started. My job description entailed connecting all their business from the various locations under one network for uniformity and ease of tracking and sharing information. My supervisor entrusted me wholly with that task such that he expected my performance to be of highest standards and hardly left room for mistakes. This acted as a challenge to me to be best in my work and to push myself to achieve excellent performance. Ultimately, the internship modeled me into a person who can set explicit goals for my work, monitor my progress, interact and share information with others, assess my strengths and weaknesses, as well as evaluate my learning and performance as I will lay them out below.
The internship at Nika has been one valuable experience that has contributed in shaping my professional career in ways that I had not imagined. When I joined the organization, I had little knowledge and experience on installation of network systems and managing servers. Much of the knowledge had been acquired in college through theories and practical classes which cannot be compared to an actual job in a workplace. Nika offered me the opportunity to work on a real task as would be expected of a professional. The opportunity was also to put the knowledge I had acquired in school into practice and offer my services to the business world. This was a huge step to the growth of my career. Again, immediately after joining the organization, my supervisor, who happens to be the assistant IT manager, gave me a one-week coaching on the system that the company uses and how to ensure that all their different locations are functioning under the same system. He also outlined the expectations he had of me and the responsibilities lay on my shoulder by the entire company. With the expectations laid out and the orientation done, I drew up my timetable and drafted my goals and targets for each day.
The experience has also improved my skills on computer systems, networks, and general internet skills. Before this internship, I had not connected computers from different geographical locations into the same network. I was used to connecting only those computers that are close by, mostly in the same room. Through Nika, I can now easily connect machines in several different states to share the same network system on the same server. Being able to successfully execute tasks and seeing tangible results has always been my desire especially when it comes to career development since I have great passion for my profession. The expertise gained through the internship period will go a long way into improving my resume when I seek employment in future can land me a job opportunity in organizations larger than Nika. I can also offer services now as part time since I have the confidence that I got what it takes.
Although the range of experience is broad, there are specific experiences that mostly helped me to stretch and grow as a professional. One of them was the actual task of connecting the different computers from the different company locations into one network. The company was still operating under the same network when I joined the team, but the connections kept failing since it was a new operation that was being executed. I learned how to maintain the server and to monitor the strength of, and restore network connections when they go down. The training that I got before embarking on my duties came in handy since from it I knew the location of all my working equipment and could access them with ease. I could also set my targets from the job description, thereby allowing me to monitor my progress. Since I was dealing with computers that were being used by the staff members, it became a norm to interact with they made inquiries or when I needed to consult them. This made me eventually be able to fit in their team, and we could often share information and even talks that were not work related.
Another experience that was a stretch for my professional growth is a workshop the company had whereby other system administrators from three different companies had been invited. The aim of the workshop was to sharpen the skills of information technology, especially the area of system administration. I was offered the opportunity to attend, and the workshop was such a learning experience. We were taught on the best and easiest ways of installing and configuring systems while staying within the set budget. There were lessons on best ways of securing computers from being hacked, as well as how to upgrade computer software and other components. This was also a golden opportunity to meet, interact and connect with other professionals who have grown their careers in the job market. This felt like a life time opportunity for my career.
Even though I had a great learning experience at Nika, it occurred to me that there are certain things I could have done differently during my internship that could have made this experience even better and improve my profession more. One of the things is my interaction with my supervisor and other staff members. For the first one month, I had trouble communicating with my colleagues. I am not a very social person, and it felt too new to me. Due to this flaw in communication, I struggled when encountered with a challenge in my work. It took me longer to consult and ask for assistance and this slowed down my learning since the internship period was three months. Another thing I could do differently is changing my approach towards work. The internship opportunity made me get excited so much such that I replaced all the other aspects of my life with work. I set too many goals such that I could extend my working hours and go home late. The enthusiasm to learn and accomplish as much as possible was my driving force, and unfortunately, this made me miss the point of balancing my life. I got weighed done by work since I was not used to overworking previously and with this continued habit, I found my brain slowing down. Sometimes I could not concentrate as I would want since my brain and body were tired but I kept on going. I believe allowing myself time to relax and loosening my targets a little bit would have allowed by the brain to replenish lost energy and thereby accommodate more learning.
Nika Corporation is a place I would recommend anyone to go for placement, especially college students during their school breaks or after graduating from college. Since the company is small, the environment for learning is conducive as there are not too many employees. The company is also growing, and in the process adopting new technologies, therefore, training and workshops are occasionally organized. This will offer an excellent starting point for graduates as they work their way up the career ladder. Teamwork is also a core value of the company and staff members are open for consultations whenever one needs to make inquiries or clarifications. Additionally, if an intern performs up to the expectations of the company, one is offered an opportunity to work with them later after graduating. This means that if one has graduated, and his performance is remarkable, he can be offered a job opportunity after the internship period has elapsed.
In summary, internship programs are important since they offer opportunities for the interns to learn and grow their professionalism. My experience with Nika Corporation is one huge milestone in my career growth, and I would recommend others to try it. From the internship experience, I learned how to set goals, monitor my progress, interact with people, and most of all, improve my knowledge of computer systems and operation of multi-user computers. I am now more confident in my skills than I was before the placement.
Request Removal
If you are the original author of this essay and no longer wish to have it published on the customtermpaperwriting.org website, please click below to request its removal: