B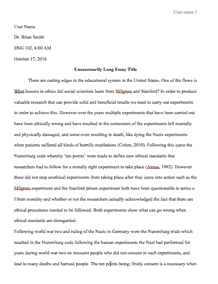 University/College: 
Sewanee University of the South
This essay has been submitted by a student. This is not an example of the work written by our professional essay writers.
The Salisbury-Rowan community Action Agency serves the counties of Rowan, Montgomery, Davidson, Stanly and Moore. One of its programs is the Head Start Program which offers school readiness services by promoting social and psychological development in children through educational, health and nutritional enhancement to expectant mothers, infants, toddlers, and pre-school children. The programs create safe environments to nature healthy relationships that encourage parent involvement. They have a Department of Family Services which offers support in seeking employment, vocational training, and housing to create independence in enrolled individuals. The Union County Community Action Agency serves Richmond, Union, and Anson counties. It also has a similar Head Start program and offers financial grants to help in acquiring housing or education.
These community agencies are very successful in offering community support programs. They foster family involvement in their childrens education by involving them early in a childs life. Salisbury-Rowan enrolls expectant mothers in their programs and teaches then how to take care of themselves during pregnancy. However, there is still a gap in their actions because they dont cover even half of the people that need them.
The diversity of families and the cultural nature of agencies
Both Salisbury-Rowan and Union County community action agencies deal with schools, students, and families in multicultural areas. Common cultural groups are white Americans, African Americans, Koreans, Chinese, and Mexicans. Agencies describe that they face the challenge of cultural competency. Volunteers and teachers working with these families have to change their stereotypic beliefs about certain cultures and accept that others may have different norms from their own. Agencies engage volunteers from various cultural backgrounds to close this gap. Agencies have to get immersed into the cultures they serve and create a safe environment where cross-cultural interactions can occur (Madison, 2000).
Collaborative leadership
School administrators and community agencies should value collaborative leadership over instructive leadership (OBrien, 2011). In the two agencies, this culture can be fostered through honesty and transparency. They involve parents in the decision-making process and make them feel that their opinion matters. Parent- community partnerships arrive at this by negotiating ideas and decisions between themselves to meet the set goals. For collaborative leadership to work there needs to be a reliable communication process. Collaborative leadership can be used as a tool to encourage parent involvement in change programs.
Advocacy and/or family empowerment
Advocacy allows people to express their views and address their issues. From the community agencies I visited, I learned that most parents are not involved in school because they have financial commitments and lack time, feel intimidated or inadequate. Community action agencies seek to empower families by offering home visits to encourage parent involvement, using community centers to host educational activities, use of translators to cover language barriers and provision of ideas on how parents can be involved. It also helps parents to voice their opinions regarding what they would like for their children. Parents will readily embrace involvement in their child's education if they feel that their contribution is valued (Madison, 2000).
The strengths and challenges of the agencies in meeting the needs of students and families
Community agencies are usually successful in promoting parent involvement and education because they have numerous resources and support from public and private partners like universities and local companies (OBrien, 2012). However, they face numerous challenges. At the Union County Community Action Agency, common barriers include cultural and language barriers, financial inequality where some parents work up to three jobs, therefore, lacking time for involvement, lack of support from parents who are skeptical about their programs and the difficulty in recruiting volunteers to help in the program as more people value well-paying jobs.
References
Madison, L. (2000). Home-School-Community Partnerships, Linda Madison. Retrieved from https://www.eduplace.com/science/profdev/articles/madison.html
OBrien, A. (2012). The Importance of Community Involvement in Schools | Edutopia. Retrieved from https://www.edutopia.org/blog/community-parent-involvement-essential-anne-obrien
Request Removal
If you are the original author of this essay and no longer wish to have it published on the customtermpaperwriting.org website, please click below to request its removal: