B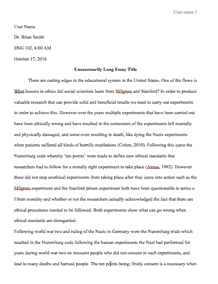 University/College: 
Sewanee University of the South
This essay has been submitted by a student. This is not an example of the work written by our professional essay writers.
The present public health leadership issue that I see often is the lack of good communication between health care providers and patients who lack adequate knowledge about their health problems (Thompson et al., eds). Notably, issues related to health literacy can substantially alter patient-provider communication and hinder benefits expected from medical care (Kelly & Haidet, 2007). It is the responsibilities of the healthcare professional to help patients feel comfortable in understanding about their health.
This class has enlightened me on the lack of knowledge that health professions have. Given the complementary nature of health communication, patient-provider communicative interactions play a paramount role in care, particularly among patients with low literacy (Brown, Stewart & Ryan, 2003). Additionally, provider knowledge concerning the popularity of patient attributes associated with limited health literacy may affect these relationships. Inadequate information among providers concerning problems related to health literacy can change patient-provider communication substantially and obstruct benefits derived from medical care. Notably, researchers assert that discordance in the estimation of patients literacy level may be a significant source of discrepancies in health care (Kelly & Haidet, 2007).
Application of Information to Future Dissertation Research
This class accorded me a clear understanding of the theoretical framework is the proposal for the full dissertation inquiry. It creates a foundation on which to construct and support the study, and provides the structure for defining how to philosophically, epistemologically, methodologically, and analytically approach the dissertation as a whole. Eisenhart (1991, p. 205) described a theoretical structure as a framework that guides study by relying on a conventional theory created by using an established and consistent explanation of certain phenomena and relationships. I understand more about looking for a gap in the literature. Although rigorous techniques for conducting systematic reviews exist, no systematic procedures for identifying research gaps when developing the future research sections have been elaborated yet. A research gap refers to an area for which insufficient data restricts the ability to reach a conclusion for a question. On the other hand, A research need relates to a gap that limits the ability of decision-makers (policy-makers, patients, practitioners) from making decisions (National Collaborating Centre for Methods and Tools (2012).
References
Brown, J. B., Stewart, M., & Ryan, B. L. (2003). Outcomes of patient-provider interaction. Handbook of health communication, 141-161.
Eisenhart, M. (1991). Conceptual Frameworks for Research Circa 1991: Ideas from a Cultural Anthropologist; Implications for Mathematics Education Rese.
Kelly, P. A., & Haidet, P. (2007). Physician overestimation of patient literacy: A potential source of healthcare disparities. Patient Education and Counseling, 66(1), 119122.
National Collaborating Centre for Methods and Tools (2012). Framework for identifying research gaps.
Thompson, A. M. Dorsey, K. I. Miller, & R. Parrott (Eds.). Handbook of health communication (pp. 141162). Mahwah, NJ: Lawrence Erlbaum.
Request Removal
If you are the original author of this essay and no longer wish to have it published on the customtermpaperwriting.org website, please click below to request its removal: