B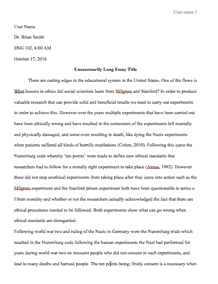 University/College: 
Vanderbilt University
This essay has been submitted by a student. This is not an example of the work written by our professional essay writers.
Trust refers to the strong belief in the ability, strength, truth, and reliability of an individual or something. In business, trust plays a great role in any business. A company can build trust through various ways to their consumers and as well as their employees. A consumer who trusts a particular company will tend to refer other people to that given company (Ebert, 2009). I have always been loyal to one brand which is Nike Jordan. It is because I am an avid basketball player and I believe their products are of high quality and very comfortable and I always want to be confident in the products I purchase.
A company can build trust through various ways which include using of content marketing that gives people what they want. A marketing campaign is a prime factor towards building the trust of the customers. The marketing should ensure that it makes people understand and know what you are in that particular business and what you deal with and as well as what you stand for. This will help gain the trust of the consumers. The other way of building trust is through the encouraging of online reviews from the consumers. Most of the consumers tend to trust a company or business basing from the past reviews of other customers after they purchase a given product. A business can build trust by ensuring that it does not remove the negative feedback they get from their timeline. Negative feedback acts as a proof of carrying out business in the real world. If the business is being carried through an online platform and the customers only see positive feedback, they will not believe it and will result in them losing trust in the company. The management should focus on doing their job well rather than focusing too much on whether the customers trust them or not (Ebert, 2009).
When a business or organization builds the trusts of their consumer's various ethical issues, and obligations come along with it. The company should ensure the customers are satisfied by the products they are selling to them and meet their various needs. A customer requires respect especially when he/she is a loyal customer to the business for a long period it means that when he/she raises a given complain means that it is genuine. It is also the obligation of the business or organization to ensure the personal information and data of their consumers is safeguarded and their privacy maintained. It is ethical for a company to keep their promises especially those that are given after a sale such as the provision of warranty. When costumers claim their warranty, most companies tend to ignore that, and this results in the customers losing trust in their brand. Consumers should trust companies that portray their credibility and honesty. It is because its through the trust that they can purchase the products of the company believing that they will fulfill their intended needs and as well as trust creates a channel through which they can lay down their claims believing that they will get the right solution to it (Macvean, Spindler, & Solf, 2013). I think some consumers are just more prone to be loyal to companies while other consumers are not. It is because some of the companies that the consumers are loyal to tend to have a poor quality of products and treating their customers poorly as compared to others offering the same product, and hence they do not deserve the loyalty of the consumers.
In conclusion building of the customer trust by companies plays a great role in the business. Customers who have trust in a given brand and company tend to purchase their products which increases their sales constantly. The basis of consumer loyalty and segmentation should be flexible through accounting for uniqueness and as well should be based on research principles that have been adequately validated and tested.
References
Ebert, T. (2009). Trust as the Key to Loyalty in Business-to-Consumer Exchanges: Trust Building Measures in the Banking Industry. (Trust as the key to loyalty in business-to-consumer exchanges.) Wiesbaden: Gabler Verlag / Springer Fachmedien Wiesbaden, Wiesbaden.
MacVean, A., Spindler, P., & Solf, C. (2013). Handbook of policing, ethics, and professional standards. Abingdon, Oxon: Routledge.
Request Removal
If you are the original author of this essay and no longer wish to have it published on the customtermpaperwriting.org website, please click below to request its removal: