B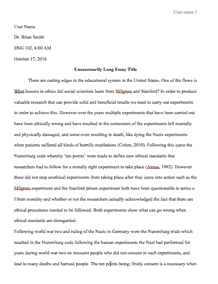 University/College: 
Wesleyan University
Type of paper: 
Literature review
This essay has been submitted by a student. This is not an example of the work written by our professional essay writers.
In 2012, a report by the Attorney General's National Task Force on Children Exposed to Violence indicated that over 46 million children residing in the United States were most likely to have their lives affected by violence, crime, abuse, or psychological trauma in that year (Klain, & White, 2013). The task force recommended that every concerned group serving children exposed to violence and mental trauma should establish and provide trauma-informed care and trauma-focused services to the affected children. The targeted groups include child welfare system stakeholders, professionals, and advocates concerned with helping these children.
Today, there exist trauma-based systems designed to serve children who are affected by various traumatic experiences, together with practices aimed at supporting recovery rather than exacerbating vulnerabilities. Examples of trauma-informed practices include maximizing physical and psychological safety for the child, identifying trauma-related needs of children, enhancing child well-being and resiliency, and partnering with system agencies among others. This paper will highlight how researchers can help state policymakers integrate available research evidence into policy, specifically about the development of systems that promote evidence-based treatments for trauma associated with child maltreatment.
Review of Literature
Challenges in Translating Evidence into Mental Health Policy for Children in Foster Care
The Problem of Jurisdiction. Over the years, many child welfare systems (CWS) have integrated practices that serve children in foster care experiencing trauma. The exercises are mostly related to trauma screening and assessment. However, research shows that such methods have not been successful in some areas. The reason for this being that the same practice is not likely to fit in some settings. Still, the National Child Traumatic Stress Network (NCTSN) has come up with strategies to address this diversity. One such approach includes incorporation of the Breakthrough Series Collaborative (BSC) Model into the system. The function of this model is to improve the process of identifying, engaging, and delivering services to children experiencing trauma by various child welfare systems. The Institute of Healthcare Improvement (IHI) created this model with the aim of bringing together subject matter professionals with application experts to help concerned organizations choose, test, and execute changes in direct service delivery (Grayson, Childress, Baker, & Hatchett, 2012). However, most agencies have not been able to embrace this change hence making it difficult to translate evidence into mental health policy.
Failure to Report Cases of Child Maltreatment. Studies have shown that many people fail to report cases of traumatic childhood events to the concerned authorities. Such activities include child abuse, violence and other forms of maltreatment. Research also shows that the reaction of children to trauma differ depending on the resiliency of the affected child and his or her age. For instance, preschool and young children may not be in a position to develop the ability to identify areas where they can find security and thus establish great fear in response to trauma. Sometimes, the concern can extend beyond the circumstances of the traumatic event. Also, the caregivers in foster homes may not be in a position to notice any signs of traumatic stress in the child. Such symptoms that go unnoticed by child welfare workers include loss of language, repeated night horrors, and regression in toileting skills among others.
The inability of CWSs to Conduct Specific Trauma Screening. Over the years, many child welfare systems have not been in a position to conduct successful trauma screening. Also, most of the systems do not perform specific trauma screenings at all as many are still in developing the process. Nevertheless, some of them have already developed assessment tools to conduct screenings. Many child welfare workers lack the specialized training required to administer the instrument. In most cases, the worker is only aware of the event that brought the child into the system but is not familiar with the traumatic history of the child.
Role of Rapid Evidence Reviews (RERs) in Health Policy
Rapid Evidence Reviews (RERs) refer to efforts applied in assessing and synthesizing evidence in limited time compared to traditional or "full" Systematic Evidence Reviews (SERs). The primary function of SRs is to provide a comprehensive examination of the evidence base whereas RERs stress on the efficiency and receptiveness to the requirements of policymakers or other stakeholders (Fraser et al., 2013). In health policy, RERs perform various functions such as informing government policy or clinical practice, taking part in the decision-making process regarding insurance coverage, giving advice on the appropriate structure and delivery of care in health systems, as well as offering guidance on implementation of new care models or system changes. In carrying out its roles, RERs employ a wide range of secondary research methodologies according to the needs of health policymakers. Below is an illustration of the methods RERs use to achieve their objectives.
Encompassing a Wide Range of Timeframes. RERs can take different timeframes to achieve their goals as the time required is mostly influenced by the available resources, the information needed by a decision maker, as well as the date of the awaiting policy decision. Therefore, this implies that RERs can take a few days, a year, or even more than a year to complete. The timeframe has an impact on the results produced by the reviewer.
Incorporating a Variety of Strategies to Accelerate the Review Process. The reviewer must rush administrative processes, as well as committing more personnel and resources to carry out a full SER within the shortest time possible. Also, he or she has the obligation of forming specialized teams with the necessary skills to modify or eliminate traditional SER steps, as well as conducting RERs.Variation in the End Products generated by RERs. The results produced by RER vary. For instance, RERs may create reference lists, executive summary, summaries of abstracts and key findings, meta-analyses, as well as comprehensive reviews such as SERs.
Systematic Evidence Reviews of Treating Child Maltreatment
Systematic Evidence Review (SER) refers to a summary of the medical literature that applies obvious and reproducible techniques to search systematicall1y, appraise critically, as well as synthesize a specific issue. It incorporates the outcomes of a variety of primary of studies related to each other by employing strategies that decrease biases and random errors. Sometimes, this technique may or may not apply a statistical synthesis method called meta-analysis. The systematic reviews conform to a strict scientific model based on explicit, pre-specified, and reproducible strategies. Therefore, if they are carried out well, they generate reliable estimates about the effects of interventions so that the findings can be easily explained.
SERs are usually carried out in different areas of clinical tests like diagnostic, screening, and prognostic processes, as well as public health interventions. This technique can be applied in diagnosing signs of child maltreatment. Evidence shows that diagnosing and treating the effects of child maltreatment has proved to be less efficient but costly to the patient. Research further indicates that epidemiological information on policies and programs put in place to combat child maltreatment are not being utilized accordingly, especially in the developing and least-developed countries. Therefore the SERs of the effectiveness of child maltreatment prevention interventions aims to provide an up-to-date synthesis of new evidence. They also assist the reviewer to evaluate the quality of the systematic reviews used, as well as assessing the quality of the outcomes evaluations incorporated in the analysis.
Conclusion
In a nutshell, today, many healthcare providers have failed to develop systems that promote evidence-based treatments for childhood trauma. The most common class of children who usually experience traumatic are those under foster care. Such children require assistance from relevant organizations or professionals to deal with their problem. However, there are unable to get assistance due to failure to report cases of maltreatment as well as lack of adequate skilled staff to conduct specific trauma screening. Therefore, it is necessary for policymakers to employ techniques like Rapid Evidence Reviews (RERs) as well as Systematic Evidence Reviews to translate the available evidence into mental health policy.
References
Fraser, J. G., Lloyd, S., Murphy, R., Crowson, M., Zolotor, A. J., Coker-Schwimmer, E., &Viswanathan, M. (2013). A comparative effectiveness review of parenting and trauma-focused interventions for children exposed to maltreatment. Journal of Developmental &Behavioral Pediatrics, 34(5), 353-368.
Grayson, J., Childress, A., Baker, W., & Hatchett, K. (2012). Evidence-based treatments for childhood trauma. Virginia Child Protection Newsletter, 95, 1-20.
Klain, E. J., & White, A. R. (2013). Implementing trauma-informed practices in child welfare. Retrieved from State Policy Advocacy and Reform Center: www.childwelfaresparc. org/wp-content/uploads/2013/11/Implementing-Trauma-Informed-Practices. pdf.
Request Removal
If you are the original author of this essay and no longer wish to have it published on the customtermpaperwriting.org website, please click below to request its removal: