B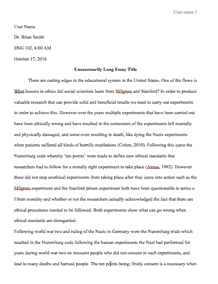 University/College: 
Vanderbilt University
This essay has been submitted by a student. This is not an example of the work written by our professional essay writers.
This paper provides a comprehensive reflective weekly journal over the period of the 12-week teaching period. Fundamentally, it documents a critical analysis of my learning process. Throughout this entire period, this journal provides a detailed reflection and review of the manner in which I progressed with the learning goals, which are related to the assessments 1 and 2. In its actuality, the course considerably engaged me towards the exploration of the entire business research process and ultimately how to plan, organize and conduct my research project. Ideally, I carried out the whole business process in a great deal so as to determine and define an appropriate business research questions, conducting a thorough literature review, selecting appropriate research methodology to collect and analyze data, and finally to write the research project.
Critically and Depth of Learning Reflections Reflective Analysis
Entry 1: Week 1
Since it was the first class, we began with the brief introduction of class and ourselves. Fundamentally, this course involved the discussion of the nature, process, and strategy of business research. At this time, I got the opportunity to learn the manner in which I could plan and undertake research process, in addition to the appropriate techniques required to come up with a workable research topic.
Entry 2: Week 2
This class involved learning about research design and planning process. Based on the knowledge I received from this lesson, I researched again and made an outline. I chose the topic, Use of Big data in Business organizations. In its actuality, the groups carry out several business activities and operations which involve massive clusters of information, and therefore I applied the knowledge obtained in this class to examine and analyze this topic. The skills gained here made it easy to tackle both the assessment one and two.
Entry 3: Week 3
This lesson involved the literature Review and Writhing Business Research. In its actuality, I believe that this was a core of this course as it entailed application of the knowledge and the strategies obtained in the first two weeks to carry out an appropriate review of the literature regarding the topic that I selected. Previously, conducting a review of the literature was a big challenge to me but through this class, I was able to do it appropriately. To get the exact information both the theoretical and empirical knowledge regarding my topic, I had to conduct comprehensive research on the utilization of big data in big organizations and corporations. Because there is a lot of literature on the chosen topic, I feel that I will have to apply the skills and knowledge obtained to conduct an adequate business research.
Entry 4: Week 4
This is the fourth lesson in this class and involves Ethics and Legal Consideration in Business Research. In its actuality, business research involves many ethical considerations. Through this course, I have gained appropriate knowledge regarding the necessity of ensuring that my business research is conducted within the ethical standards that it deserves. On a wider note, I learned the skills regarding manner in which the human subjects can be ethically and more efficiently integrated into business research.
Entry 5: Week 5
The lesson of this class involved Nature of qualitative research, sampling and participant observation. In this class, we learned about the methodology as a critical component of business research or project. On a wider note, this class involved learning about various elements of qualitative research such as collection of data through the personal experience, introspection, life story, interview, artefacts, cultural texts and productions, observational, and historical information. Through this class, I have realized that a qualitative business researcher needs to deploy a broad range of interconnected interpretive practices, hoping always to get a better understanding of the subject matter at hand.
Entry 6: Week
Throughout this week, the students were involved in learning about Interviewing, Focus Groups, and Language in qualitative research. In this class, I learned how to distinguish which data collection method is more important with my research topic. I gained considerable skills and knowledge about the ways of carrying out effective interviews, focus group organizations and the business research language. At this point, I feel that I have been able to justify chosen research methodology (qualitative) and explain procedures for data collection, proposed data analysis, and limitations of your proposed study.
Entry 7: Week 7
While undertaking any research, qualitative analysis usually forms an integral part. Throughout this week, the focus of this class was to equip students with the appropriate knowledge to perform the qualitative data analysis after collection. In its actuality, the course enabled me to apply the knowledge gained in assessment 1 and also believe that it will be helpful for me when doing the assessment 2.
Entry 8: Week 8
The sampling techniques are an important aspect of any business research. Nature and Sampling in Quantitative Research were the primary foci of the class that took place throughout this week. Notably, I must appreciate that this course enabled me to know the definition, types, nature and the procedures of choosing different samples. In addition to the research planning skills gained earlier, I believe that I would be able to adopt or choose an effective sampling technique for my research proposal. Specifically, I chose the sampling methods would ultimately enhance new values and the processes that are associated with the creation of the new values in association with business organizations making use of Big Data. This choice was based on the fact that any organization requires continuous improvements and innovations to maintain its place in the market and to keep one step ahead of its competitors.
Entry 9: Week 9
I must admit that this week class was among the unusual ones since this course began. The class involved learning about structured Interviewing and questionnaire design. In reality, business research requires a proper data collection through questionnaire and interviewing methods. However, the value and quality of the data collected also depends on the design of these two methods of data collection. This class equipped me with the adequate skills that enabled me to create and develop different types of questionnaire such as the structured ones, in addition to various kinds of interviews. I plan to apply these methods in the assessment 2 of this course.
Entry week 10:
This class involved learning about the structured observation and content analysis. Notably, these two concepts form an integral component of any business research. The structured observation and content analysis is a crucial step that leads a researcher to the near final phase of any research project.
Entry week 11:
Secondary analysis and quantitative data analysis formed the focus of this class. I gained adequate knowledge about how we could apply different research approaches to conduct the quantitative data analysis from the secondary sources. It was in this class that I realized about the current differences between the qualitative and quantitative. I believe that the success of the assignment will be substantially reliant on the knowledge I gained from this class.
Entry week 12
Being the last class in this syllabus, much of what I learned entailed studying about the mixed methods research, which integrated both the quantitative and qualitative research. The knowledge gained throughout the entire semester enabled me to distinguish between the two concepts. Conceivably, it was the last week of this course. The week mainly focused on finalization and the submission of the assessment 3. In general, this assignment made me concluded that several components are involved in the functioning of Big Data as a tool and data analytics has a crucial role to play in the process.
Conclusion
In conclusion, in this paper, I have offered a detailed reflective journal for 12 weeks. This course equipped and enabled me to demonstrate an understanding of the research planning process, business research methods and understanding importance of professional ethics. In this way, therefore, all the twelve topics are all integrated into my reflective journal as discussed concerning the research paradigm and theoretical knowledge with what I applied in assessment 1 and 2.
Request Removal
If you are the original author of this essay and no longer wish to have it published on the customtermpaperwriting.org website, please click below to request its removal: