B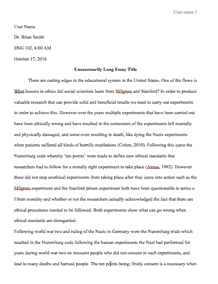 University/College: 
Wesleyan University
This essay has been submitted by a student. This is not an example of the work written by our professional essay writers.
McDonald's is among the biggest restaurant chains globally. It is an American hamburger and fast food and serves around 68 million customers across 120 countries in roughly 36, 899 outlets (James, 2009). McDonald's sells hamburger, desserts, milkshakes, cheeseburgers, breakfast items, chicken products, French fries and soft drinks. However, recently there has been an expansion in the menu so as to favor their customers changing tastes, they have added fish, salads, fruits and smoothies to their menu. Any McDonalds restaurant operates as a franchise, under an affiliate, or run by the McDonalds corporation itself.
McDonald's started as a barbecue restaurant, in 1940 by two brothers, Richard and Maurice McDonald. Later in 1948, using line principles of production, the two brothers reorganized the business as a hamburger stand. In 1954, Roy Kroc joined the brothers as a franchisee and later bought the chain from the brothers, and this marks the era of the greatness of the McDonalds, and by 1958 it had sold 100 million hamburger (Klein, 2015). Roy Kroc had a dream of building a restaurant system that would be popular for its consistency in provision food that was of high quality and uniformity in preparation methods. To successfully achieve this he adopted a unique path and influenced the franchisees and suppliers into adopting his vision of working not for McDonalds but for themselves, together with McDonalds. hence promoting the slogan, In business for yourself, but not for yourself.
Kroc advocated for all the outlets to adhere to the system approach. Therefore, all the franchisees had to adhere to McDonalds system which made them follow the key principles of McDonald's which are quality, service, cleanliness, and value. McDonalds being passionate on quality implies every piece of ingredient has to be tested, tasted and perfected to fit the system of operation. Through sharing of his visions about McDonalds future, Kroc was able to gain more trust which made the restaurant to boom. Hence, creating the most efficient, innovative, and integrated supply system in the food service industry through the partnership that he made. That is why it is not surprising that many of the operating suppliers in todays world only started the business with a handshake from Kroc (macdonalds.com,2017).
Oman is among the countries that have outlets of the McDonalds. In total Oman has 22 restaurants and more than 300 employees. McDonald's have been operating in Oman since March 30, 1994 under Ali K. Daud who is the president, owner, and operator of all McDonald's restaurants in Oman (Mcdonaldsarabia.com, 2017). Daud has continued to proudly serve McDonald community in Oman with its favorite fast foods while striving to ensure they serve safe and products that are of high quality to their customers across all restaurants in Oman. All restaurants of McDonalds in Oman are 100% locally owned and operated thereby decisions are also locally made, and the revenues are reinvested to boost the 1ocal economy.
The Omans McDonalds is committed to serving customers with high-quality products in each and every restaurant. Also, it maintains a social responsibility agenda that is active. Ali Daud explains operating a McDonald restaurant as an enriching journey that has allowed him and the employees at large to bond with the community. Therefore, rendering McDonald a household name in Oman and also making it an active member of the society through several initiatives such as holding an open day with cancer patients at the Royal hospital, holding clean up drives, holding campaigns such as say no to drugs among others (Mcdonaldsarabia.com, 2017). McDonalds Oman is passionate to continue to offering their services and patrons in a simple, easy and fun way to their customers and entrench themselves within the social fabric of the country.
SWOT Analysis
Strengths
Diversified income. The McDonalds company is very large, and with so many outlets around the world, hence its total earnings and sales in different locations allow it to offset one another. The company is in roughly 120 countries. Thus if the domestic sales are deteriorating it most likely, they could be strong in other places. Consequently, the company does not rely only on one main source of income unlike its rivals (Dalavagas, 2015). The diversification hence makes McDonald's have stable cash flows, allowing it to make regular profits.
Strong brand name, image, and reputation. The brand of McDonald's is among the most recognized in the world. The logo Golden Arches are easily recognized by individual globally be it in Africa, North America, or Europe. Besides, the company ensures there is uniformity in the ingredients, preparation, and tastes of their products so that one can get the same taste whether they are eating a McMuffin in Oman or New York (Dalavagas, 2015). Nevertheless, it provides also a cultural diversified in the food it offers based on the location of an outlet, thereby adding supplemental sales in every specific region.
Technology innovative. McDonalds have the desire in fully embracing technology to uplift their sales and to be one step ahead than other fast foods and casual fast food restaurants. The company is using kiosks, mobile apps, wearables, and smartphones so as to give customers extensive methods of ordering food. An example of the technology that McDonald's wants to embrace is the kiosk whereby customers can walk into a restaurant synchronize a smartphone to the kiosk then acquire an updated menu, view order history, and even get recommendations (Hatamoto, 2015). Moreover, compared to other fast foods McDonald's is exceptionally careful about what they bring to their customers, to them it is not only about embracing technology.
Weaknesses
Dissatisfied franchisees. Most of the franchisees are beginning to be dissatisfied with the company. They put the blame of the changes that are being undertaken under the new CEO Steve Easterbrook. Recently, Easterbrook announced plans to change is the menu, increase wages for employees at McDonalds company-owned stores, eliminating certain items and adding-higher-end options such as premium burger and antibiotic-free chicken, and raising fees amount that franchisees have to pay to use the notorious fast-food brand (Rooney, 2015). This announcement was received negatively by franchise owners who complained that the system has broken and they feel abandoned by the company.
Negative publicity. The company has endlessly maintained a view that their food is not healthy, and is stuffed with salt, fat, sugar, and carbohydrates. However, these views are on point generally, since most of the time the menu is unhealthy relatively. The company has received criticisms for encouraging eating habits that are unhealthy, hence making a lot of their customers putting on weight. For instance in super-size me documentary increased the negativity of the company. The documentary documented Morgan Spurlocks rapidly deteriorating health as he consumed McDonald's products for 30 days (Dalavagas, 2015). Therefore, most individuals who are conscious about health have no considerations to eat food from McDonald's despite its effort in introducing options that are healthier.
High turnover rate of employees. In spite of the fact that McDonald's has many good managers and well-skilled employees, there is still a high turnover rate. At least each year employees are fired from the restaurant while others just quit their jobs due to low salary or too much pressure from their managers and high working hours. Moreover, there are some who do not take the job seriously and only take for a short time of period hence leading poor performance. Also, it pressures the company to the bottom line due to the high turnover (Toughnickel.com, 2016).
Opportunities
Expansion in other countries. McDonald's is the fastest growing fast food restaurant around the world. It has 31000 restaurants in around 120 countries. Of the 31000 restaurants, 14000 are in the United States, and 22 are in Oman. Since McDonald's has now embraced cultural diversity of the local people where it is located, the company can open more restaurants even in places such as China and India, countries that peoples lifestyle are highly influenced by their culture (Dalavagas, 2015). Therefore, expanding creates new opportunities for the company.
Growth of the fast food industry. Fast food industry is currently growing at a high rate. This is due to the changes in peoples lifestyles making them also change their eating habits. Previously, fast foods were mostly consumed by workers or drivers or people who lacked enough time to cook, however, in the current world, people prefer eating fast food than cooking even if they have the time to cook and the majority of them do love taking fast food. Hence, this creates a great platform for the fast foods brand to elevate their revenues especially McDonalds (Toughnickel.com, 2016).
Diversified tastes and need of the customers. As days go by tastes among customers, continue diverse. Therefore, creating an opportunity for developing a new format of service in order so as to satisfy them. McDonald's with a new style of business such as the McCafe, it creates attraction of new section of customers (Greenspan, 2017). For instance, individuals from the civil service, who have a preference for coffee whenever they want to work. Also, McDonald's can achieve diversification through selling DIY (do it yourself) food stuff that allows customers develop their taste through the McDonalds materials they can acquire in supermarkets.
Threats
Competition. McDonald's encounters a lot of competition from national to international fast food restaurants, from local to regional retailers of fast food product among others. Its competition is based on price, service, product quality, convenience, and menu variety. It competes with companies such as Wendys, Yum!Brands, or Burger King among others (Dalavagas, 2015). Even though the markets of these brands are lower compared to the McDonalds, they still try to acquire customers from McDonald's. Also despite striving to meet all of the metrics mentioned above, it has challenges in quality of the product, since most customers prefer quality and natural products.
Increase in More health-conscious customers. People all over the world try to eat and maintain a healthy diet. The increase in popularity of organic products, fresh fruits, and vegetables and goods with all natural ingredients has become in one way or another concern for McDonalds. Since previous offerings of products such as supersized meal, slim salad selection and no fruit on yogurt are being overshadowed. Also, the company has concerns that younger, more health-conscious consumers will affect the results in the long run unless there is a strategic shift (Toughnickel.com, 2016).
Economic Downturn. Among the major threat of McDonald's is consumers declining to spend. As individuals finances continue to be hit, this renders customers to be more cautious on their spending, especially unnecessary spending. All major regions in the western are in a recession, and it has been predicted they will stay like that for a while. Almost every core emerging economies, for instance, China are experiencing economic downturn which has a negative impact for McDonald. Customer traffic is a major contributor to the success of the McDonalds and if the customer decreases their spending could put some short-term pressure on the margins of the company (Jurevicius, 2017).
Effect of Competitive Advantage
Quality of Service
The hallmarks that are fundamental to the McDonalds brand are clean restaurants, child-friendly happy meals, and great tasting safe food. McDonalds is devoted to ensuring the beverage and food they s...
Request Removal
If you are the original author of this essay and no longer wish to have it published on the customtermpaperwriting.org website, please click below to request its removal: