B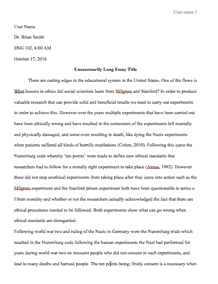 University/College: 
Boston College
Type of paper: 
Creative writing
This essay has been submitted by a student. This is not an example of the work written by our professional essay writers.
A company's uniqueness in business is through the development of technological applications that will strengthen the companys operations. Such companys operations that can be improved are the customer service segment. Through robust integrated technology architecture, customer experience has been made easier as a company can, for instance, adoption of an Omni-channel service which uses a unique approach to sales by offering an integrated shopping experience. The service helps to prevent duplication of problems to different customers while delivering a seamless experience to them. In essence, integrated technology has created new ways to solve problems with ease while still not ignoring word of mouth. Also, a company can also apply artificial intelligence (AI) to improve the experience of their customers. Artificial Intelligence in customer care industry can be used to imitate the type of decision that an agent would make depending on the question of the client in communication. Therefore, integrated technology has provided convenience to its customers by providing detailed information about products through the various means. As a result, customers can enjoy the experience from the companies they are interacting with (Bahdanau et.al (2016).
One of the key drivers for a business to acquire robust integrated enterprise architecture is that a company must have a secure operating system which can hold every update that the firm will be investing. As such, these businesses should use software such as Customer Relationship Management CRM, Supply Chain Management and Payroll for efficiency and automation. Also, a company should engage a customer dialogue by advancing their digital marketing architecture. Digital marketing architecture is one of the key business drivers since it is for it that the companys performance will be gauged. A good marketing architecture should encompass both outbound and inbound marketing strategies as well as diverse and complex advertising Bounds et.al (2016).
Goldman Sachs is one of the top companies that have embraced the development of the enterprise architecture. The company has invested in the designing of a good system where information relating to stock market, real estate, bonds and so on is streaming in every second. Thus, when clients need investment guidance, they are advised accordingly. It is through the development of such integrated technology that the customer experience has improved (Chew et.al. 2017).
References
Bahdanau, D., Chorowski, J., Serdyuk, D., Brakel, P., & Bengio, Y. (2016, March). End-to-end attention-based large vocabulary speech recognition. In Acoustics, Speech and Signal Processing (ICASSP), 2016 IEEE International Conference on (pp. 4945-4949). IEEE.
Bounds, M., Wilson, B., Tavakkoli, A., & Loffredo, D. (2016). An integrated architecture for telerobotics aided by immersive virtual reality. In The 25th IEEE International Symposium on Robot and Human Interactive Communication.
Chew, M. L., Puri, S., Sood, A., & Wearne, A. (2017). Using Natural Language Processing Techniques for Stock Return Predictions.
Request Removal
If you are the original author of this essay and no longer wish to have it published on the customtermpaperwriting.org website, please click below to request its removal: