B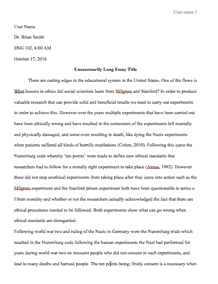 University/College: 
Sewanee University of the South
Type of paper: 
Research paper
This essay has been submitted by a student. This is not an example of the work written by our professional essay writers.
Adidas Company is an apparel multinational corporation that specializes in the design and manufacture of clothing, shoes, and accessories. Overtime, the brand has grown to be largest apparel manufacturing company in the entire Europe. Ever since its inception in 1949, the company has progressively gained dominance in the global sports ware market to be the current second largest around the globe (Ind et al., 2015). According to studies, the company commands high consumer loyalty with marketing strategies that are cognizant of emergent technologies and marketing approaches. There is hardly a country around the world without the brand featuring in its apparel market. This discussion will rely on three Socratic questions in an attempt to provide a clear overview of the company and its marketing strategies (Mohammadian & Karimpour, 2014). The success of Adidas Company results from its innovativeness and reliance on responsive marketing strategies that focus on consumer wants and changes in demand patterns.
Why Is Adidas Regarded as the Second Most Successful Apparel Company in the World?
The Companys brand name gives a measure of its success since there is barely a formal sporting event that would fail to feature the name. This would include products for men, women, and persons of all ages and sizes with a sense of fashion or quality for apparel and general sports gear. The Companys products also go beyond applicability in sporting to provide global consumers with clothing, shoes, and accessories that are suitable for multiple social events and activities (Yeh, 2015). The success of the company partly results from its marketing strategy and segmentation in the global market. As part of its marketing strategy, Adidas has employed product diversification and brand imaging to maintain its competitive advantage in the market environment. In sports for instance, the company supplies a wide range of boots and general sports gear that are present a strong brand image in international sporting competitions.
How Effective is the Marketing Strategy Employed by Adidas Company?
Adidas Company employs diverse marketing strategies that depend on the nature of specific market environments. Like few of her competitors, Adidas mainly aims at creating consumer brand loyalty through her marketing strategies. The company has been able to achieve this through an effective branding strategy that has been in operation since the mid-90s. To meet the diverse and dynamic consumer demands in the global market effectively, the company divided its brand to focus on three different segments. The first is the sporting segment that included product demand mainly from athletes through Adidas Performance segment. The second is the fashion market industry through Adidas Style Essentials and Adidas Originals, which focused on renewing previous brands and maintaining (Akbari et al. 2015). Through the different brands, the company has been able to address consumer demands. This may be seen in its product specification and sales generated from each market segment.
The Implication of Adidas Marketing Strategies on its Adaptability and Ability to Maintain its Competitive Advantage
Adidas Company has been able to maintain a competitive advantage in its global market. However, the fact that it is the second largest implies that its current operational and management outlook is not good enough. The global market environment is defined by stiff competition and highly consequent market dynamics, the company needs to address increase its responsiveness as it looks forward to expanding and increasing its market share. Currently, this does not seem to present a challenge for the Company because of the increasing innovativeness that may be observed on its strategies (Cleff et al., 2013). This for instance includes the companys approach to advertisement, where it has not only invested on contemporary media but also in the gaming section, in which case it has had its brand featured on games like: Sony PlayStation, as Adidas Power soccer; and Commodore Amiga, in the Daley Challenge.
Conclusion
Adidas Company is a leading designer and manufacturer of apparel and foot ware. Its decades long presence in the clothing, shoe, and apparel industry has seen the growth and success of its brand. The marketing strategies employed by the company have been highly effective in maintain its market share. This has particularly been because of effective product diversification and segmentation (Ind et al., 2015). This has helped the company meet diverse and changing consumer demands with products that fit different lifestyles and social events. Through the brand names Adidas Originals, Adidas performance, and Adidas Style Essentials, the company has effectively entrenched the global market by addressing the different segments that exist in different environments. The success may also be credited to the level of emphasis placed by the company on innovation, which has helped the company achieve continuous product improvement through time and therefore appeal (Hertrich et al., 2015). In conclusion, Adidas Company is ready for the future, and it is only a matter of time before it reaches the top position. The company however needs to focus on maintaining its competitive advantage as its faces stiff competition from worthy rival like Nike and Zara on the global platform.
Environmental and Social Issues of Adidas Company
Despite from a few environmental issues and social scandals, Adidas Company has a good reputation. In 2011, Chinese environmental campaigners accused the company of indiscriminately polluting River Yangtze, which is the longest river in China. This had reportedly endangered the lives of over 60 million who depended on the water source including interference with ecosystems around the river (Agence France-Presse, 2011 ). The company has off-late improved its operational procedure to minimize waste creation and environmental degradation. In 2000, Adidas Company faced allegations of having employed child labor in its Indonesian Company, additional accusations of sexual harassment, underpayment, and forced overtime were also included (Burke, 2000). The company however distanced itself from the allegations despite numerous reports by credible bodies like the Christian Aid.
References
Agence France-Presse. (2011). Nike, Adidas Suppliers Polluting China Rivers. Retrieved from. http://www.rawstory.com/2011/07/nike-adidas-suppliers-polluting-china-rivers/
Akbari, M., Salehi, K., & Samadi, M. (2015). Brand Heritage and Word of Mouth: The Mediating Role of Brand Personality, Product Involvement and Customer Satisfaction. Journal of Marketing Management, 3(1), 83-90.
Cleff, T., Dorr, S., Vicknair, A., & Walter, N. (2013). Brand experiencehow it relates to brand personality, consumer satisfaction and consumer loyalty. An empirical analysis of the Adidas brand. Interdisciplinary Management Research, 9, 731-754.
Hertrich, S., & Mayrhofer, U. (2015). Adidas, the running shoes market. HAL.
Ind, N., Iglesias, O., & Schultz, M. (2015). How Adidas Found Its Second Wind. Strategy+ Business, (80).
Burke, J. (2000). Child Labour Scandal Hits Adidas. Retrieved from. https://www.theguardian.com/uk/2000/nov/19/jasonburke.theobserver
Mohammadian, M., & Karimpour, Y. (2014). Identifying the factors influencing the feeling of love toward a brand: the Adidas case. Switzerland Research Park Journal, 103(1), 94-122.
Yeh, Y. T. (2015). The Effects of Brand Knowledge and Extension Fitness Products on Brand Affect and Word of Mouth: Evidence from Adidas (Doctoral dissertation, Tamkang University Master's Program, Department of Management Sciences).
Request Removal
If you are the original author of this essay and no longer wish to have it published on the customtermpaperwriting.org website, please click below to request its removal: