B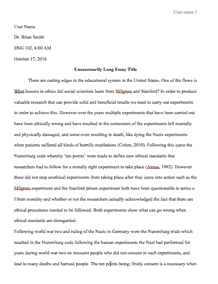 University/College: 
Sewanee University of the South
Type of paper: 
Case study
This essay has been submitted by a student. This is not an example of the work written by our professional essay writers.
The strength of a business undertaking is determined by the leadership and personal traits of the management. Superior leadership encompasses intelligence, self-confidence, determination, integrity, and sociability (Northouse, 2016, 24-26). With the contemporary high rate of change in the business environment, major emphasis has been put on leadership traits of the people who run these businesses. Traditionally, management was supposed to maintain status quo in businesses (Strategic Leadership Studies, 2014, 1). Currently, the role of business leaders has evolved tremendously. They are expected to be visionary. They also act as both teachers and learners in the changing business environment. A sense of ethics is also required to maintain business integrity. Psychology has been utilized to determine leadership traits that have been common to acknowledged leaders (Wolinski, 2010, 1). These traits have been compiled and utilized in the businesses to improve their performance. This study analyzes the case of Carol, who inherits a business from her late husband and utilizes good leadership traits to grow the business to unscaled heights.
Case Analysis
Carol was the wife of an owner of a small office supply business. She had no major participation in the family business until her husband died. When he died, Carol decided that she would personally run the family business, the Baines Company. At the time of her husbands death, the Baines Company was a small business employing only five people with annual sales of approximately $200000 (Northouse, 2016, 34). The business focused on the provision of office supplies to small businesses in a small city. Its competitors were two stores in the town which were part of the national chains. At the time Carol was taking control of the business, the business was suffering adversely from advertisements and low prices offered by the national chains.
Carol was qualified to take a management role in the business as she had a business degree majoring in management. First, she familiarized herself with the running of the business and the employees and then listed all businesses that could be their potential clients. She used the potential clients lists and her analysis of the capability of the Baines Company to develop short-term and long-term business goals. Being endowed with the five-factor personality model that includes neuroticism, extraversion, openness, agreeableness, and conscientiousness (Northouse, 2016, 26), Carol was able to develop the business into a larger, viable and competitive company. Her ambition and planning were not futile as the company showed rapid growth after investing hugely in advertisements, sales, and services. As the company developed, Carol was battling a personal health issue. She was diagnosed with breast cancer. Despite spending lots of time in the hospital, Carol did not let this setback act as a hindrance to the operations of her business.
The trait approach implies that there are no set rules on the kind of a leader required for an organization but the leaders traits are what determines the kind of leader one becomes (Northouse, 2016, 28). Under Carols leadership, the Baines Company grew rapidly for ten consecutive years. Employees described Carol as a very solid person who was very considerate and fair. She cared for her employees, and she created a family-like environment at the Baines Company. Carol had a strong personality, and she supported the interests of her employees by sponsoring sports teams. According to the employees, Carol was she was a model of strength, goodness, and quality.
With her robust management traits, the Baines Company grew to a strong company outpaced the multinational chains. At 55, she handed over the company to her two sons. She is still the president of the Baines Company, but she does not oversee the day-to-day running of the business.
Justification
Carol was able to grow the company due to her visionary trait. She was able to properly plan by setting up short-term and long-term goals for the company. Her ability to properly plan is shown by getting all relevant information before creating the company goals. Carol was emotionally stable and strong. Despite suffering a loss due to death of her husband, she was able to make vivid decisions by deciding to run her company. As she suffered emotionally and physically due to cancer, she was able to maintain emotion stability and the suffering did not affect her business.
Carol was self-confident. She did not doubt her ability to run the business after the death of her husband. Her self-assurance enabled her to invest a huge proportion of the business resources in advertising and sales in an uncertain market hoping to develop her company. She had no doubts about her plans to develop her company.
Carol was a conscientious manager. She was dominated by a sense of duty and did not allow her illness to hinder her ability to run the Baines Company. She took proper care of her employees and fostered a good working environment to motivate them.
Solution
Carols leadership traits can be described using the three-skill approach. Carol had technical, human, and conceptual skills. Technical skill refers to knowledge and proficiency in a specific task, human skills involve the capability of a person to work with other people, while conceptual skills refer to the ability to work on concepts and ideas (Northouse, 2016, 43-46). Carols technical skills can be attributed to her business degree in management. It had given her the technical know-how needed to run a business. Carol was able to work effectively with her employees to attain the organizational goals. A good leader is able to create an environment of trust so as to properly motivate employees to attain the companys goals (Mukherjee, 2006, 7). Carol was able to work with new business concepts and is able to share the concepts with her employees, and together they work by utilizing these concepts.
These skills made Carol an effective leader. She was able to steer the growth of the Baines Company to unprecedented levels. Under her stewardship, the company increased its revenue from $200000 to more than $3.1 million eclipsing the chain stores in the town. This exponential growth in the company can be attributed to Carols visionary management.
Summary
Although the trait approach has been criticized for being highly subjective and not offering a definitive list of leadership traits (Northouse, 2016, 30), the case of Carol represents a manager who utilizes her leadership traits to improve the financial position of her family business. Despite the health and other challenges facing her, Carol maintains focus in her business and is rewarded with the expansion of the business. With a combination of technical, human and conceptual skills she is able to guide both the business and employees in attaining the set goals. The effectiveness of her management style is demonstrated by the high performance of the Baines Company. Her leadership traits have also been a source of motivation to her employees.
Case Study Questions
Carols leadership skills can be described as visionary. She has a vision of developing the Baines into a robust competitive company even when she goes through a difficult time upon being diagnosed with breast cancer. This vision guides the growth of the company. She is driven, self-confident, and has the appropriate knowledge required to run a business.
Carols management traits contributed immensely to the tremendous growth of the Baines Company. Her innovative management skills and strong leadership skills guide the growth of the company.
Carol can be described as a business leader. She oversaw the rapid growth of the Baines Company. Were it not for her effective leadership traits, Baines Company would probably have collapsed soon after her husbands death.
References
Mukherjee, P. (2006). Total quality management (1st ed.). PHI Learning Pvt. Ltd.
Northouse, P. (2016). Leadership: theory and practise (7th ed.). Sage Publications inc.
Strategic Leadership Studies. (2014). Leadership traits. Au.af.mil. Retrieved August 2, 2017, from http://www.au.af.mil/au/awc/awcgate/sba/traits.htm
Wolinski, S. (2010). Leadership theories - leadership. Leadership. Retrieved August 2, 2017, from http://managementhelp.org/blogs/leadership/2010/04/21/leadership-theories/
Request Removal
If you are the original author of this essay and no longer wish to have it published on the customtermpaperwriting.org website, please click below to request its removal: