B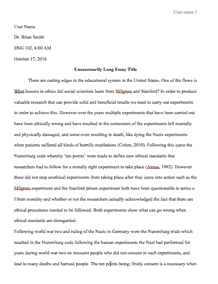 University/College: 
George Washington University
Type of paper: 
Course work
This essay has been submitted by a student. This is not an example of the work written by our professional essay writers.
Recently, national attention has been focused on engaging stakeholders in creating a research agenda that is more patient-centered that helps improve decision making in health care. A culturally competent organization is one that can blend different attitudes, policies, and behaviors and work efficiently in a setting that is cross-cultural to yield better outcomes. Cultural competence has got four components: Attitude, awareness, skills, and knowledge.
Cultural competence in the healthcare organization describes the capability to give care to the patients who have different beliefs, values, and behaviors. It also includes delivering health care to meet the patients' cultural, linguistic and social needs. The new care delivery model has got some components such as an accountable care organization and the patient-centered medical homes that define the ability to educate and engage patients concerning their health status. It is very challenging with patients especially for the diverse patient population because of the health literacy gap, language barriers cultural differences that arise from communication styles.
It is so vital that the healthcare systems and hospitals understand the diverse patients and the communities they serve and equally the benefits got due to becoming a culturally competent organization. Care systems and hospitals should prepare the staff and clinicians to interact and associate with patients from diverse backgrounds to engage patients, help in eliminating ethnic and racial disparities in care. In order to improve the understanding of the different cultures, the care systems and hospitals have to seek advice from groups and individuals in communities that they provide service to.
Cultural competence in a healthcare organization has got numerous benefits. The organizations that are culturally competent experience social benefits, health benefits and business benefits. Socially, the organization benefits due to increased mutual respect and a better understanding in between the patient and the health organization. There is also an inclusion of all the members of the community. Equally, the organization experiences increased community participation in the health issues. Health-wise, the benefits include; reduced disparities in care among the patients, improved data collection and reduced number of missed visits medically. Business benefits an organization experiences when it is culturally competent are; incorporation of different ideas, strategies, and perspectives in the decision-making process, decreased barriers that slow down progress and lastly the culturally competent organization experiences an increased share in the market.
To create an inclusive, culturally competent organization the values, vision, and mission of an organization should be centered on cultural competency. Take for instance the Mission Statement of Quorum Health Group, states that "a hospital company committed to meeting the needs of clients as an owner, manager, consultant or partner through innovative services that enhance the delivery of quality healthcare." It does reflect a culturally competent organization. Defining the vision, mission, and values of an organization can profoundly boost the employee's engagement, encourage participation too in the initiatives of the health-care and thus send an excellent message to the community.
Routine procedures such as admissions to a health-care system can equally contribute to a culturally competent organization. This is because if the admissions are made fairly and respectively, discrimination and prejudices regardless of culture will be eliminated thus making an organization culturally competent. The health-care systems or organizations should also train and educate the staff on the cultural needs that patients they interact have and the importance of cultural competence. The team equally, has to be made to understand the factors that are pushing the healthcare systems and hospitals to be culturally competent. The barriers encountered in and outside the organization include; poor cross-cultural inter-communication, attitudes towards healthcare, socio-cultural and language barriers.
An inclusive culturally competent organization equally ensures that there is community participation in general as well as at group or individual levels. The organization should invite the people of diverse cultures to join in creating an inclusive cultural community. In addition to general health care, some other services that can be offered to the community include; Home Health Care, Home Telehealth, and Homeless Services. To evaluate if the organization is meeting the diverse healthcare needs, attention should be paid on how the staff and clinicians to interact and associate with patients from different backgrounds to engage patients and help in eliminating ethnic and racial disparities in care. To be competent, the organization needs to be comfortable and involved with different cultures and backgrounds, work efficiently with people who come from different cultures and finally link itself to groups and people from diverse backgrounds and cultures.
All in all, to build a culturally competent organization requires a change in the way people perceive each other's culture, how they operate and communicate. Additionally, a culturally competent organization emphasizes the importance of cultural diversity. An organization has to commit to a continuous evaluation and creation of an environment that is inclusive of different cultures and celebrates diversity. In healthcare systems and hospitals, the staff ought to understand the diverse communities and patients they serve. This understanding of diversity leads to improved patient outcomes, mutual knowledge from the patients, respect and increased participation by the local community.
References
Berardo, K., Deardorff, D. K., & Trompenaars, F. (2012). Building cultural competence. Innovative activities.Purnell, L. D. (2012). Transcultural health care: A culturally competent approach. FA Davis.
Request Removal
If you are the original author of this essay and no longer wish to have it published on the customtermpaperwriting.org website, please click below to request its removal: