B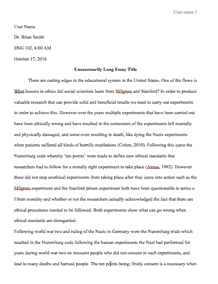 University/College: 
Sewanee University of the South
This essay has been submitted by a student. This is not an example of the work written by our professional essay writers.
Charles John Huffam Dickens was a British author who was born in the year 1812, on the 7th of February. His place of birth was Portsmouth, which is a city that is found on the Southern coast in England. He came from a family of eight children and he was the second born. He was the son of John Dickens, who worked as a naval clerk and who also often dreamt of making money and becoming wealthy. Elizabeth Barrow was the name of his mother and she was an aspiring teacher. However, despite the fact that his parents tried their best to provide for their children, the family remained poor. Despite the poverty that they faced, the family was quite happy in the beginning. The family relocated to a place called Chatham in Kent and in this new environment, Charles and his siblings were able to move around the countryside and in the process they regularly explored the castle in the area, found in Rochester.
The Dickens family relocated once more in the year 1822, to a poor part of the city of London. The place they moved to was known a Camden town. At this time, the family was facing extreme financial constraints, mostly due to the fact that Charles father loved to live a lifestyle the family could not afford. This led to him being imprisoned in the year 1824, due to the fact that he could not be able to pay his debts. At this time, Charles Dickens was only 12 years old.
After the imprisonment of his father, had no choice but to go and find a job at a boot-blacking factory, which was situated along the river Thames. He made six shillings every week in his new job and it was at this time that he left his innocent youth and started helping the family earn some income. This feeling of betrayal by his parents for not taking care of him when he was a child became a theme that he regularly re-visited in his writing.
Later, John Dickens got an inheritance from his family, and through it he managed to pay his debts, and therefore Charles was able to resume his studies. However, this did not last long and when he was 15 years old, Charles left school again to work and supplement his familys income. His job this time round was to work as an office boy and coincidentally, this job was the probably the starting point to his writing career. One year after he had been hired, he started to do freelance reporting. He did the reporting at the law courts of the city of London and in two short years, he was a reporter for two big newspapers (Wilson, 1970).
Charles started presenting sketches to different newspapers and magazines using the pseudonym Boz ion 1833. The clippings of his sketches got published in the year 1836, and this was his first book which was titled Sketches by Boz. Catherine Hogarth noticed his work after this book was published and he later married her, and together they had ten children before their separation in 1858.
Charles Dickens began the publishing of The Posthumous Papers of the Pickwick Club during the same year his first book was published, and this piece of work was extremely loved by the readers. They even surpassed the original work that they were supposed to accompany. He was also a publisher of Bentleys Miscellany magazine by this time. This is where he began to publish his first novel, entitled Oliver Twist. It was quite successful both in England and also America. However, in the coming years, he was not able to match the success of the novel. Over several years, he published several books including two Christmas stories, and he also underwent a lecture tour of the United States that lasted for five months.
When he first visited the United States in 1842, Charles Dickens presented himself as a modern celebrity and he openly spoke against issues such as slavery and other reforms in the society. The lectures which he conducted at this time were so successful, that the scalpers of the tickets began gathering outside the places he conducted the lectures. However, as much as he enjoyed the attention from the Americans in his visit, he later started to hate the invasion of privacy and other negative impacts that came with the fame. He criticized them severally and this led to him organizing another tour of the country so that he could correct his reactions to the public. Hence, during this second tour, he delivered a powerful speech in which he promised that he would praise the country when the American Notes for General Circulation and The Life and Adventures of Martin Chuzzlewit were reprinted (Johnson, 2009). At this time, his readings which totaled 76 made him approximately 95,000 dollars at that time.
In is native country of England, his fame had grown to such a huge extent that everyone could recognize him as he walked around the London streets looking for inspirations for his new books. Charles Dickens stayed in Italy for a full year after his first tour of the United States, and in this time, he wrote the pictures of Italy. He also wrote the novel, ealings with the Firm of Dombey and Son at this time and this was the novel that set the tone for his future works. Another notable book he wrote was David Copperfield, which was revolutionary in that it was the first novel in which the life of the character is followed throughout the book. He explored some of his personal struggles in the book, including the poverty that faced him as a child.
The author went through rough times during the 1850s, as he lost his father in the period, his marriage collapsed, and his daughter also passed away at this time. He also had an extra-marital affair with an actress by the name of Ellen "Nelly" Ternan, although he did his best to cover this up. It was also at this time that his novels started to take a darkened world view. This is evident from the novels, Bleak House and Hard Times.
After this period in which his novels had a darkened worldview, Charles Dickens published what is generally said to his finest literary work in the year 1859. This is well known book, A Tale of Two Cities, which is set in the French revolution. The book was published in a periodical that he had started that went by the title All the Year Round. In 1860, he published the book, Great Expectations, and it is considered by many as the biggest literary accomplishment by Charles Dickens (Forster, 1892).
Charles Dickens was involved in a train accident in the year 1865, and he never managed to fully recuperate from this accidents. However, despite the fact that he was weak and frail, he continued with his tours up to the year 1870. When he was aged 58, he had a stroke in 1870, on June 9th. He passed away aged 58 after the stroke and heath occurred in a place called Gads Hill Place. This was his country home in Kent. His final resting place was Poets Corner, in Westminster Abbey. His gravesite was visited by thousands of people who adored him greatly.
References
Wilson, Angus. The World of Charles Dickens. Penguin Books, 1970.
Johnson, Edgar. "Charles Dickens." New Books List April-June 2009 (1953): 50.
Forster, John. The Life of Charles Dickens. Chapman and Hall, 1892.
Request Removal
If you are the original author of this essay and no longer wish to have it published on the customtermpaperwriting.org website, please click below to request its removal: