B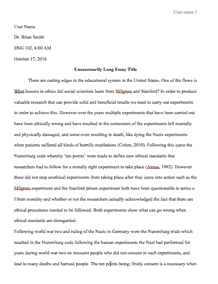 University/College: 
Wesleyan University
This essay has been submitted by a student. This is not an example of the work written by our professional essay writers.
As human beings, each person feels the need for being respected, loved, appreciated and accorded similar rights and treatments of others. Every person wants to feel that he or she belongs somewhere, matters and plays a significant part in the lives of people that surround him or her. In other words, a person has the right to feel that he or she matters and hence not being subjected to unfair treatment. However, we live in a world where there is plenty of discrimination especially when it comes ethnic background. A good example is the Black Lives Matter Movement that was formed a few years ago because of the deaths of young African American boys who died at the hands of the police. The life of a person is equally important as the lives of others. The Bible presents several scriptures that illustrate equality and the need for respecting life as each person matters.
Every life is precious in the eyes of God because he is out creator and had the reason for forming and placing each and every one of us where we are. He does not look into the issue of race when listening to our prayers but instead answers us depending on our needs. The Bible clearly states that human beings are created in Gods image. According to Genesis 1:27, So God created mankind in his image, in the image of God he created them; male and female he created them (New International Version). There is no specificity on color but rather a generalization by using the term mankind to refer to all. Therefore, the scripture treats each person equal.
The Bible also presents the view that Jesus Christ died for all humanity and not for a specific race. According to Corinthians 5:15, And he died for all, that those who live should no longer live for themselves but for him who died for them and was raised again, (New International Version). Emphasis is on the term all that illustrates that we are all equal when it comes to the eyes of God and since Christ died for each person, every life matters. It brings into perspective the need for treating others the way one would want to be treated. Romans 14:11 which states as surely as I live, says the Lord, every knee will bow before me; every tongue will acknowledge God (New International Version) also puts into perspective the issue of every person whereby every person will bow down and worship him.
The scripture also shows that all lives matter with the view that human beings have equal opportunities when it comes to God. Hebrews 11:6 states, And without faith, it is impossible to please God because anyone who comes to him must believe that he exists and that he rewards those who earnestly seek him, (New International Version). In other words, everybody can be blessed as long as they seek God with sincerity.
As stated earlier, the Bible presents several scriptures that illustrate equality and the need for respecting life as each person matters. The scripture puts human beings into oneness when it comes to creation, opportunities provided by God and the love that God accords to humanity. In synopsis, all lives matter regardless of the racial differences. Therefore, it is important to treat each person with respect regardless of ethnic background for we are all Gods children.
Reference
New International Version, The Bible.
Request Removal
If you are the original author of this essay and no longer wish to have it published on the customtermpaperwriting.org website, please click below to request its removal: