B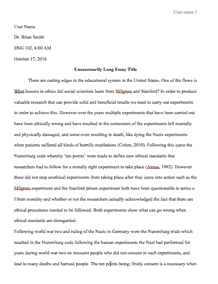 University/College: 
Sewanee University of the South
This essay has been submitted by a student. This is not an example of the work written by our professional essay writers.
I deserve to get into St. Thomas University Masters of Education program even if my GPA is less than 3.0. My mission is to better student lives. If given the opportunity to join your institution, I will acquire the required skills that will enable me to become a principal. As a principal, I will invest my skills in students studying in the rural areas. I will be both a mentor and a friend to these students. My objective is to bring up good students and raise the school's overall grade. Joining your institution will equip me with the knowledge and skills I need.
I did not attain a GPA of 3.0 because I was a typical college student. I used to reach the bare minimum grade that was required. However, in my junior year a teacher, Dr. Hass, failed me on an assignment. Dr. Hass changed my life forever. Dr. Hass made me realize that no one was going to let me pass because I am an athlete and an Olympian. It is then that I decided to put more effort in my studies. Despite the effort, my accumulative GPA is still lower than 3.0.
My daughter, Ava, is my drive to want to be better in life. She makes me want to be the best parent that I can be. If I had other people in my life when I was younger, I would have gotten the wakeup call that I needed early in life. If I had as caring principals and teachers maybe I wouldnt have been so late in my academic life to pursue education with the seriousness expected of me. If I join your institution, I will get the needed mentorship and skills that will enable me to push students in rural areas to be the best they can be.
I want to be a good role model for my daughter by giving her a better life in future and also be the best principle I can ever be. St. Thomas University is just the right place for me. Although other people see St, Thomas Universitys prestige to be the most exciting thing, I know that your well-planned curriculum and excellent management have played the core role in making your university a priority for me seeking a masters program in education. If I join your college, I will not just learn from professors well informed of what is happening at the forefront of the school management program, but I will learn from professors who are the forefronts in the control of their schools.
Although I have not attained the required minimum GPA, I would urge you to consider my application and its entirety. My GPA is not a reflective of the person I am today. I am a mature person with the most paramount responsibility of not only being a good role model to my daughter but also the most caring principal children in the rural areas need. I am willing to appreciate all the facilities your university can offer and take advantage of these opportunities and become a better person. Moreover, I would urge you to see my life experience and values as something that will play a role in the diversity of St. Thomas University. Thank you in advance for your consideration. I hope to hear back from you soon.
Request Removal
If you are the original author of this essay and no longer wish to have it published on the customtermpaperwriting.org website, please click below to request its removal: